Suwannee Riverkeeper Songwriting Contest 2021-08-21 [Up]

All winners.
L-R: KJ Wingate, Katherine Ball, David Rodock, Sweet William Billy Ennis, Jimi Davies and his brother, Kathy Lou Gilman, Rachel Hillman.
Photo: Angela Duncan for WWALS.
Tickets:
$12 at the door
For VIP tables send email to song@suwanneeriverkeeper.org.
Online event:
Livestream, but please buy a ticket; it's a fundraiser:
Songwriters
The Contest
Finalists will play 7-11 PM, Saturday, August 21, 2021,
at Turner Center Art Park, 605 North Patterson Street, Valdosta, Georgia 31601
Headliners will play, food truck and cash bar, judges will play, finalists will play, silent auction and kayak raffle, judges will judge, prizes will be awarded, winners will play
M.C.: Big Country Wes James, of WAAC FM Rivers Radio.
Headliners:
Sound: David Rodock of Dirty Bird and the Flu
Flyer:
Sponsors
Publicity
Last year:
You can join this fun and work by becoming a WWALS member today!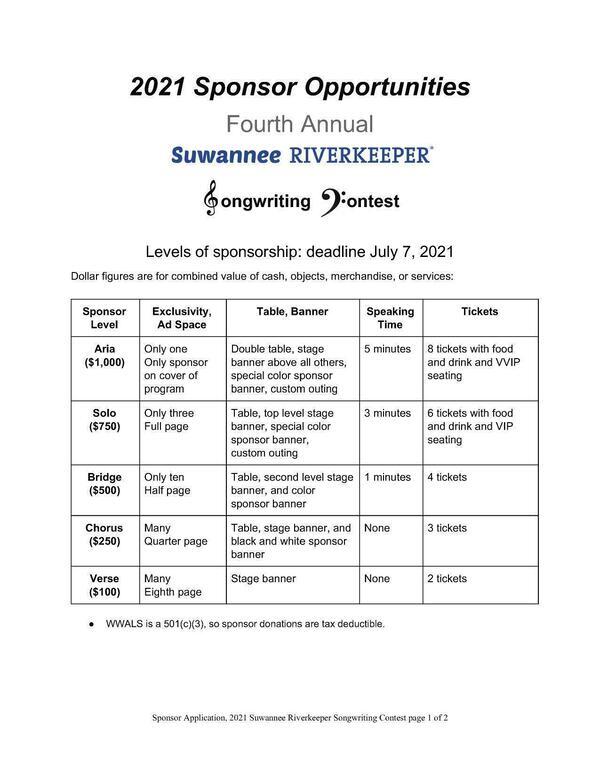 Sponsor Opportunities page 1 of 2
PDF

Submissions open April 1, 2021, Suwannee Riverkeeper Songwriting Contest, Headliners last year

Dirty Bird and the Flu, headliners, Songwriting2020

/pictures/2021-08-21--songwriting