What happened since the August 17th Homerville, GA coffee shop explosion resulting from a leak from an AGL natural gas pipeline, reported as far away as New Orleans, Louisiana and Atlanta, Georgia? The three women airlifted to Shands Hospital in Gainesville, Florida got skin grafts and are recovering, according to occasional updates by one of them on facebook. Let's all be thankful for their continued recovery.
The Georgia Public Service Commission is investigating the explosion, which may be a good thing, considering this is what the federal Pipeline & Hazardous Materials Safety Administration (PHMSA) knows about that AGL pipeline in Clinch County: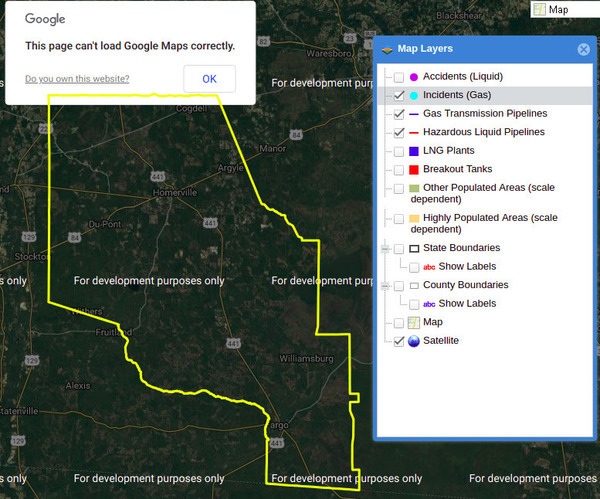 PHMSA NPMS Public Viewer, Clinch County, Georgia, accessed 2018-11-05.
That's right: PHMSA still doesn't even show that pipeline exists, there's no incident displayed, and apparently PHMSA's map viewer no longer can even talk to google maps correctly.
Terry Richards, Valdosta Daily Times, 29 August 2018, PSC probing Homerville explosion, Continue reading →