Update 2019-11-08: Donate through GA Gives, including if you wish for Brochures.
Update 2019-04-26: Price of metal signs at the water at boat ramps and landings.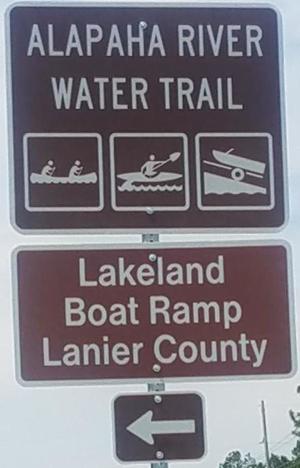 Update 2018-04-27: Pictures of Lakeland Boat Ramp signs in the ground.
Update 2018-03-15: People want to know how much the signs cost:
Road Signs

$150 one road sign
$300 pair of road signs for a landing or boat ramp

Signs at the water near a boat ramp or landing: if you donate for a specific location, your logo can go on the signs there, and on the water trail brochures and web pages
Any amount of donation helps put up the road signs that let people know the Alapaha River Water Trail (ARWT) exists and directs them to the landings, as well as the kiosks that inform people about what to expect nearby, so we get more people paddling the Alapaha River who will take care of the river.
The pair of metal signs at the water also work for the Withlacoochee and Little River Water Trail (WLRWT). Here is an example pair of metal signs at the water for Troupville Boat Ramp:
The Alapaha River Water Trail (ARWT) is a reality. We are ordering have bought the road signs from the Georgia Department of Transportation (GDOT) which has planted them on roads leading to landings, and we need to pay for them. We have a small amount of money from Continue reading →